Teleradiology
Solutions
"Our years of experience make solution implementation smooth"
There is a lot of competition in the field of teleradiology. When choosing teleradiology support for your facility it is important to look for two things; quality of service and the attention to the facility's unique needs. At Excalibur our philosophy of patient centric care has not changed. We use a small consistent group of physicians to provide service. This will give you the ability to know them on a one on one basis. Our physician team is available 24/7 for consultation. We strive to make patient centric service and to your staff.
Our solutions are cost effective and proactive to your needs. We will customize a solution to your specific needs.

Are you looking for Nighthawk Radiology – "after hours teleradiology" services?
Excalibur Healthcare has been providing teleradiology services for more than 20 years of trusted and reliable service.  Our schedule is designed to meet your needs with special attention paid to the hours or days that often lag in resources, such as the overnight hours. The goal is a seamless operation that fills the need no matter when. We offer 24/7 coverage and work with radiology groups, health systems, rural clinics, critical access hospitals and imaging centers that need extra support during day, evening and night shifts and also weekends, holidays and vacation shifts.
We understand the daily challenges of medical imaging and want to be there to assist you.
Nighthawk Teleradiology services offer:
Personalized service by experienced U.S. board-certified, radiologists
Coverage 24/7 IT/Operations support
Our IT team will design and implement a robust technology for your facility
Customized and cost-effective solutions to both long- and short-term support
Reports with quick turnaround times
Stroke Protocols
Radiologist owned company
Nationwide coverage
Accredited by The Joint Commission
Call us at 856.231.4300 for a quote or contact us at ExcaliburMed.com to learn more about our services.  
Markets Served
Hospitals, Clinics & Imaging Centers
Assisted Living and Long-Term Care
Physicians and Group Practices
Mobile Imaging providers
Government
Consulting
Physician group development for healthcare systems and hospitals
Benefits
24/7 physician support in this time of nationwide physician shortage
Board certified USA based physicians
Can be an extension and supplement of your existing department staff or provide complete staffing
Complete IT system integration and support to your system
Better patient outcomes
Cost effective
Technology
The Excalibur's PACS operates in two Tier 3+ data centers located in two different states for redundancy. The centers provide backup power and robust internet connectivity. We perform with industry leading uptime of 99.9% with use of Excalibur's IT infrastructure.
Fast data transmission
Archiving –vendor neutral archiving (VNA)
Client Portal

Remote viewing of patient exams and reports
We offer referring clinicians notification of report availability
Remote order entry

Tablet / iPad and smart phone integration
Speech Recognition Technology
Security method

AES-256 encryption,
HTTPS certificates (SSL/TLS)
DoD (Department of Defense) is available in association with our IT support function
We are HIPAA-compliant for data transmission to include images and reports
What is Artificial Intelligence (AI) in Medical Imaging?
AI is rapidly evolving in healthcare with many different algorithms developed to help radiologists and healthcare organizations improve efficiency in daily workflow, enhance diagnostic imaging, care processes, treatment variability and improve quality of patient care.
Excalibur Healthcare offers a variety of the AI and postprocessing capabilities for diagnostic imaging:
Improved Radiologist efficiency
Improved quality
Faster critical case identification
Decreased Radiologist dictation time
Radiology data capture automation
Improved communications and follow-ups
Improved billing accuracy
FDA cleared AI algorithms: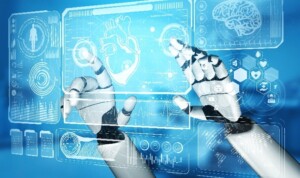 Abdominal Imaging
Cardiac Imaging
Chest Imaging
Dental Imaging
Mammography
Musculoskeletal Imaging
Neuroradiology
Women's Imaging
Find out how Excalibur Healthcare AI services can support your healthcare organization.
Contact us at 888.212.4422 or email info@excaliburmed.com
Quality
Excalibur utilizes the standards of the American College of Radiology (ACR), The Joint Commission and American Telemedicine Association (ATA) as part of our quality assurance program.
Quality Assurance
Analytics
Exam turnaround time
Continually monitored
Physician Peer Review
Random double reading of a sample of patient exams
Customized Metrics
Customized metrics can be developed for your site
HIPAA compliant
Physician credentialing

In accordance with The Joint Commission