In diagnostic imaging preliminary reads in radiology have been considered standard medical practice but over the years, there has been a transition to move toward final reads. Preliminary report was provided for emergency department (ED) exams and general daytime exams for X-rays, CT scans, MRIs and other modalities when there were limited capabilities with archiving of exams and need for rapid response to an exam when the referring physician needed a reading by a radiologist.
Today, with AI (Artificial Intelligence) and integration of multiple platforms that interface for digital archiving and speed of reporting has change perspectives from radiologists, healthcare executives and providers to have either switched or consider eliminating the process of preliminary reads. Final reads are standard for teleradiology companies, such as Excalibur Healthcare, where our teleradiologists read and provide final interpretations which can be used as final reports based on the needs or preference of a facility.
According to Arthur J. Greene, MD/Founder of Excalibur Healthcare, "We have been providing final reads for more than 20 years, the advancement in AI technology and expertise of our physicians result in maximum efficient outcomes that directly interface with hospitals and imaging facilities to be cost-effective and ensure patients get comprehensive interpretations with every exam."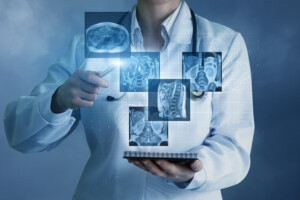 Top 3 Benefits of Final Reads:
Clinical cost-savings to streamline billing process to patients and insurances
Operational efficiency with less administrative work to process overreading reports
Quality and comprehensive interpretations of medical exams 24/7
Find out how Excalibur can maximize efficiency and optimize cost-savings to help your practice with final interpretations for diagnostic imaging.
Call 888.212.4422 or visit ExcaliburMed.com
If you find that your current teleradiology provider isn't serving your needs 100%, contact Excalibur. Our team will provide you with a customized teleradiology solution, designed to solve your unique challenges. Our relationships are what set us apart from our competitors…we are here for you!